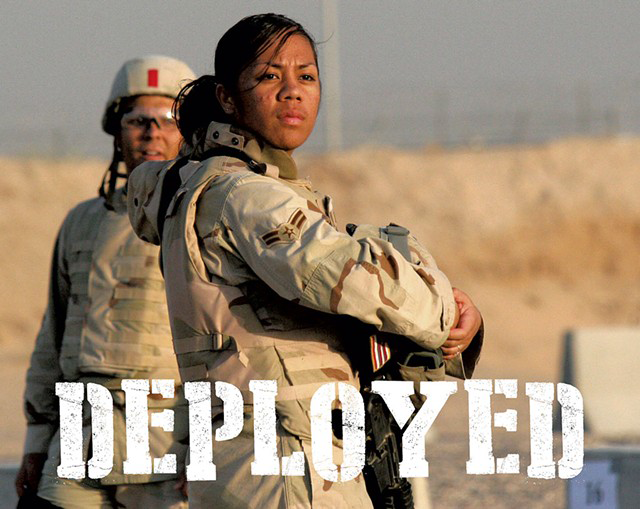 History
Deployed, a new play by Nicola Smith and Samantha Lazar, arose from interviews with female veterans in Vermont and New Hampshire conducted by Smith, a writer and journalist, in 2017 and 2018. These brave women, ranging in age from their 20s to 70s, served in a variety of U.S. military branches both in peacetime and during the Vietnam, Afghanistan, and Iraq wars.
Deployed was developed under the aegis of Northern Stage Theater in White River Junction, Vermont, with the initial readings directed and produced by Amanda Rafuse. We attained early development support from foundations in Vermont and New Hampshire which allowed for a creation period culminating in two public, staged readings in March 2019, at the VA Medical Center in White River Junction and at Northern Stage, both in Vermont.
The readings in White River Junction brought together an audience of civilians, male and female veterans, VA staff, and medical professionals. A vibrant exchange between audience members and the actors, writers, and director followed each reading. Feedback from the audience was overwhelmingly positive with attendees calling it "exceptionally moving," "powerful, contemporary, tough to swallow," "thought provoking," and "intense and intimate." To read the press coverage from the initial readings, see Press section below for articles and interviews.
The Play
Deployed weaves together the original stories, in verbatim accounts, to delve into the unique challenges of being a woman in the United States military, giving voice to stories that are often kept hidden: stories of ambition and the desire to prove oneself, stories of oppression and resilience, stories of assault and abuse, and through it all, stories of pride in service. Deployed explores some of the most pressing issues to confront Americans in recent years, shedding light on the distinctive experiences of military life but also on the common threads that bind us all together.

70-minute production (no intermission)
Designed to adapt to a variety of spaces with a range of technical capabilities
Features 7 actresses
Each performance is intended to be followed by a guided conversation between the audience, actors, production team, and mental-health professionals or VA support staff when possible.
We suggest support services or counselors be made available by host venues — counseling rooms, therapists, and support materials were made available and were used during our initial readings.
Why Now?
Deployed provides an opportunity for both civilians and veterans to hear perspectives that often go untold and unheard, and for female veterans to recognize the commonalities in their military experience, no matter when or where they served. It comes at a time when there is a wider national spotlight on the experiences of female veterans and a recognition that the roles and experiences of women in the military are often significantly different from those of men.
As a society, we have not yet fully reckoned with the physical and psychological burdens placed on returning veterans. Female veterans, in particular, speak of melting back into civilian society, which obscures both their contributions and their scars. The time could not be more ripe for this production to shine a spotlight on the powerful experiences of female veterans. Attached are reviews and articles about the project; we look forward to continuing the conversation about Deployed and hearing how you would like to play a role in bringing these stories to a broad audience.
What Audiences Say
"A mature gripping work that addresses many societal issues (coming of age, search for identity, self esteem, bonds, issues of gender, social conditioning that affect both male and female behavior, the horror and senselessness of war) explored within the context of the military option." – Audience member
"A must see. Riveting stories told by seven U.S. service women about their experiences while they were deployed. I sat on the edge of my seat and didn't look at my watch once." – Audience member
Press
Women Vets Take Center Stage in New Upper Valley Play 'Deployed' – Seven Days, March 27, 2019
Female Veterans From New England Tell Their Stories In 'Deployed' – NEPR, March 29, 2019
Female Veterans Book Group Inspires 'Deployed' Play – Vermont Humanities
Women's Military Experience to Take Center Stage in Upper Valley Play This Weekend – NHPR, March 29, 2019
Playwrights tell stories from female veterans – Valley News, March 27, 2019
Northern Stage hosts 'Deployed' workshop – Mountain Times, March 27, 2019
Theater Preview: Voices of Women Veterans on Northern Stage – The Arts Fuse, March 21, 2019
DEPLOYED, A New Play About Female Veterans Receives Workshop At Northern Stage And Reading At VA Medical Center – Broadway World, March 11, 2019
What's Next
In conversations and survey forms after the initial readings, audience members advocated that the play tour to other VAs, military academies, and theaters. We, the production team, are now seeking partnerships with VA Medical Centers across New England for a Spring 2022 East Coast Tour. We hope to help develop partnerships between hosting VAs and area civic or arts organizations in order to promote the performances, forge community connections, and diversify audiences. We currently have performances tentatively scheduled at Norwich University, a military academy in Vermont, the Flynn Theater in Burlington, VT, White River Junction VA Medical Center in collaboration with Lebanon Opera House, and two VAs in the greater Boston area.
You Can Help
We are also actively seeking funding to ensure that performances at VAs are offered free-of-charge for all members of the public. A touring production of this scale would require approximately $65,000 in funding. All donations are tax-deductible, thanks to the partnership of our Fiscal Sponsor Lebanon Opera House.
To donate or learn more, please contact DeployedThePlay@gmail.com
If you are a VA or a performing arts venue or community organization interested in bringing Deployed to your community during the fall 2022 Tour, please contact: DeployedThePlay@gmail.com
For Veterans looking for support, please contact your local Veterans Association Medical Center.
Thank You!
We are grateful to the partners who are supporting Deployed with funding or other support. Donations are tax-deductible to the full extent of the law. Lebanon Opera House, fiscal sponsor, Federal Tax Exempt # 02-0448277
Jack & Dorothy Byrne Foundation
Couch Family Foundation
HOPE (Hypertherm Owner's Philanthropic Endeavours) Foundation
Lebanon Opera House
Mascoma Foundation
Northern Stage
Vermont Humanities
Vermont Art Council